Find
Tickets

Popular Concert Tickets
One Direction
Tickets
Details
For the first time ever, purchase One Direction tickets to watch the British rockers perform at a stadium near you when the Where We Are World Tour launches in 2014.
Paul McCartney
Tickets
Details
The Out There Tour is set to once again take over cities across the globe in 2014, and with a purchase of Paul McCartney tickets, you can reserve prime seats for a concert event from a true legend of rock and roll.
Katy Perry
Tickets
Details
Spend a summer evening taking in the Prismatic World Tour when the spectacle hits a venue near you. Browse our selection of Katy Perry tickets to ensure a spot in the crowd for one of her must-see shows in 2014.
Bruno Mars
Tickets
Details
Purchase Bruno Mars tickets to experience another round of the acclaimed Moonshine Jungle Tour in 2014. Known for putting on riveting, high-energy shows, don't miss the GRAMMY winner live when he stops in your town.
Billy Joel
Tickets
Details
With performances lined up around the country, in addition to his monthly stops at Madison Square Garden, there's plenty of chances to purchase Billy Joel tickets to experience the legendary singer live throughout the year.
Luke Bryan
Tickets
Details
On the heels of a massively successful year, this country music heartthrob has even more in store for fans via the 2014 That's My Kind of Night Tour. Experience his must-see show live with Luke Bryan tickets on sale now.
Justin Timberlake
Tickets
Details
The ultimate entertainer is equipped with 20/20 Experience Tour dates extending until the end of 2014, so buy your Justin Timberlake tickets early to secure a prime spot for a performance unlike any other.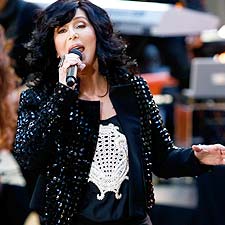 Cher
Tickets
Details
The massive Dressed to Kill Tour will be hitting North American venues in 2014, allowing fans to once again enjoy the company of this legendary performer. Cher tickets are on sale now, so don't miss out on the opportunity to see the award winner live in concert.