---
Masters Guide 2017
As ranked by Fox Sports this past fall, the annual Masters Golf Tournament garnered the top spot in the list of "50 Things in Sports You Have to Experience Before You Die."
That's right, the Masters beat out having a catch with your dad, attending the Olympics, and sinking a hole-in-one among many others.
Why? Well, as sportscaster Jim Nantz reminds everyone each spring, because it's "a tradition unlike any other." (Yes, that's now trademarked by the way).
Golf's premier spectacle returns to Augusta National April 3-9, and we're here to help you cross the Masters off your bucket list, while also making sure it's an experience to remember.
Jump to:

Legends Club Hospitality | Ultimate Masters VIP | Tips for Attending the Masters
Legends Club Hospitality - What Vivid Seats Has to Offer
So, you know you want to attend the Masters, but you're not sure where to start. Well, if things like VIP hospitality, valet parking, and open bar appeal to you, then we suggest purchasing one of our exclusive Masters packages!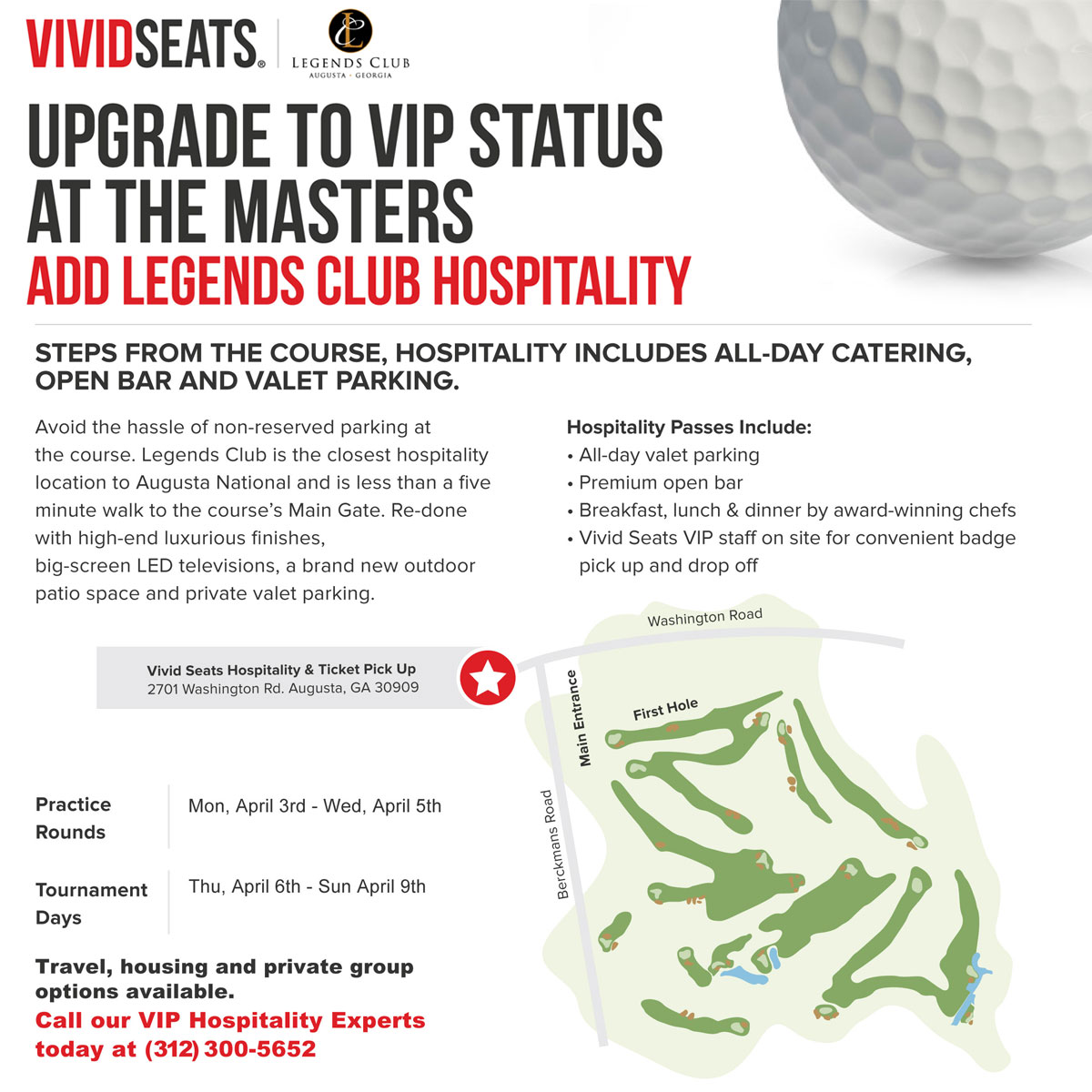 What You Get
Conveniently located at Legends Club – AKA the closest hospitality to the main gate of August National – enjoy a premier experience before and after witnessing the world's best golfers compete for glory.
Vivid Seats Masters Packages Include:
*Masters Badge (choose from daily practice rounds, or single-day and multi-day passes for tournament play)
*All-day free valet
*Premium open bar
*Breakfast, lunch, and dinner by award-winning chefs
*On-site badge pick up and drop off
*Bag check
5 Reasons It's a Great Deal
1. Parking at the Masters is notoriously difficult. Why spend your trip waking up early to grab a spot when you can opt for the stress-free benefits of valet?
2. Drink and dine in style. There's no better way to enhance your daily viewing than with premium drinks and first-class meals fit for an event as prestigious as the Masters.
3. Lost badges can mean BIG fines. Let us take care of it each day so you can fully enjoy your visit worry-free.
4. The list of prohibited items at Augusta National is extensive. Offering the closest hospitality to the main gate, safely leave your personal items behind and know that they'll be close by throughout the day.
5. No matter your reason for attending the Masters, our space inside Legends Club offers guests the option to reserve a limited number of semi-private tables - perfect for hosting clients, friends, or the like.
If You're Looking for Something a Little Different...
ULTIMATE VIP


MASTERS EXPERIENCE PACKAGE 8 PEOPLE. 4 DAYS. 1 INCREDIBLE GOLF WEEKEND.

April 7-9 – Augusta, GA
With a price tag of $350K, we know this Masters package option isn't for everyone, BUT, it is pretty awesome. If the figure fits your price range, continue reading for details.
Ultimate Masters Experience Q&A
How many people can I bring?
The package include round-trip airfare on a private jet for 8 lucky travelers
Where will we stay?
A 4-bedroom luxury housing rental (Check-in April 6, check out April 10)
How will we get around?
Enjoy luxury transportation to and from the airport, and to and from the course on Saturday and Sunday
Will we get to do any golfing?
Of course! You and your group will enjoy up to 8 rounds of golf at an award-winning course with a pro golfer
When will we be attending the Masters?
You will receive 8 Grounds Badges for Masters play on Saturday and Sunday of the tournament
What other perks are included in the package?
All-inclusive hospitality passes on Saturday and Sunday, including all-day catering and open bar at Legends Club (located in close proximity to the main entrance of Augusta National)
Private in-home chef's dinner on Saturday evening
Official souvenir gift bags
On-site personal concierge for you and your group
Tips for Attending the Masters
Best Places for Viewing
Last April, USA Today gave its picks for the top 5 spots to watch the Masters at Augusta National. Making the cut were the 12th tee, No. 15 green/16 tee, No. 6 green, No. 11 tee, and No. 18 green.
Instagram-Free Zone, But With Exception
Among the many prohibited items inside Augusta National are cell phones, but if you want to come away with a few pictures, cameras are allowed during practice rounds (Monday-Wednesday).
This is All Great, But What's It Really Like Attending the Masters?
This guide from Breaking Eighty is one of the most comprehensive Masters guides we found. It's from 2013, so some things may be different today, but if you're looking for a true firsthand account, this one is solid.