Jiffy Lube Live Ticket Information With a seating capacity of 25,000, Bristow's outdoor amphitheater is one of the largest concert venues in the area. Since its inaugural season in 1995, the stage has featured the likes of Tim McGraw, Pitbull, The Chicks, Rob Zombie, Kid Rock, Luke Bryan, Styx, Imagine Dragons, Dead and Company, and a host of others. Experience the electricity of a live event with Jiffy Lube Live tickets from Vivid Seats. All performances in our inventory will be listed above and can be filtered according to what kind of show you're looking for. If you have trouble locating any particular Jiffy Lube Live tickets, you can give us a call (1.866.848.8499) or Live Chat with a Vivid Seats staff member for additional assistance. After you've signed in or created an account, submit your personal information for checkout and within moments, your order will be processed for shipment. Jiffy Lube Live Seating Information The spaciousness of Jiffy Lube Live seating allows for you to choose between general admission and reserved seating options depending on your preference. On the interactive map, you'll see that each section is broken down by a different color designating areas such as orchestra, VIP boxes, and lawn. Click in any of the sections on the Jiffy Lube Live seating chart to call up price and quantity data on the left and see what kinds of seats are in stock. Popular Jiffy Lube Live Events Morgan Wallen Keith Urban Tim McGraw
Concerts at Jiffy Lube Live
Opened in June 1995 under its original name – Nissan Pavilion at Stone Ridge – Jiffy Lube Live in Bristow, Va., annually boasts one of the country's best concert lineups during the spring, summer, and fall months.
Like many similar outdoor amphitheaters, Jiffy Lube Live concerts are typically varied in terms of genre, as the layout makes for an ideal setup for virtually any kind of musical act. Over the years, the Jiffy Lube Live schedule has featured the likes of Morgan Wallen, Dave Matthews Band, Phish, Kenny Chesney, Zac Brown Band, Black Sabbath, Aerosmith, Pearl Jam, Heart, Cheap Trick, Journey, and many more.
As you shop for tickets to upcoming Jiffy Lube Live concerts, be sure to browse our collection of videos below showcasing the various views offered at each respective seating level. 
Jiffy Lube Live Seating Chart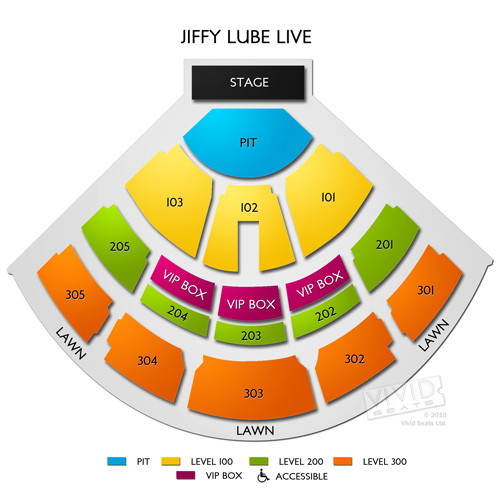 Jiffy Lube Live Pit View
When offered, the Jiffy Lube Live Pit is the closest section to the performance stage, located directly in front of the Orchestra. Unless otherwise specified, the Pit is usually general admission only, with no physical seats, and guests are typically permitted into the section on a first-come, first-served basis.
Jiffy Lube Live Orchestra Seating View
When a Pit is not available, the three Orchestra sections become the closest views to the stage, located directly in front of the 100 Level and VIP Box.
Jiffy Lube Live 100 Level Seating View
The 100 Level at Jiffy Lube Live includes three separate seating sections (right, left, center), with one VIP Box positioned in front of Section 102, which also usually houses the mix board.
Jiffy Lube Live 200/300 Level and VIP Box Seating View
The 200 Level boasts five sections of regular reserved seating, in addition to three VIP Boxes located in front of the corresponding 200 Level sections. The 300 Level is comprised of five sections as well, but does not contain any VIP Boxes.
Jiffy Lube Live General Admission Lawn Seating View
For those wishing to sprawl out and enjoy a Jiffy Lube Live concert with a wide view of the performance stage can opt for the general admission Lawn. This is the only area of the amphitheater not completely covered by the roof, so plan accordingly in the event of inclement weather.