Target Field Ticket Information
The right venue makes all the difference when you're seeing an event, and getting Target Field tickets gets you inside what's been considered one of the best stadiums in North America. Home to MLB's Minnesota Twins, this Minneapolis landmark was completed for $545 million and can hold over 42,000 spectators. You can easily get cheap Target Field tickets by clicking the "Tickets" button near the event. Our tools, like the price range bar, help you find the tickets you want in no time by limiting your search results so that only the tickets that fall within your designated criterion appear on the page. Click "Buy" to checkout. From there, just log in and provide your billing and shipping details. After the purchase is complete, we'll ship your Target Field tickets. And please know that we pride ourselves on always being available to help, so reach out anytime by phone at 1.866.848.8499, or through our Live Chat feature.
Target Field Seating Information
You'll notice a guide on the inventory page that offers detailed information pertaining to suites and club seats. Also, be on the lookout for small, white notes near the ticket prices, which provide information like alternative shipping methods for your Target Field tickets. The interactive Target Field seating chart allows you to click on the area you're interested in and view the current pricing and availability. Be aware that the seating chart can change depending on the type of event you look at.
Target Field Rules & General Information
It's imperative that you are aware of and follow all of the Target Field rules. This way, you and everyone attending Target Field events remain safe. Every item you bring inside will be subject to an inspection, and keep in mind that items like illegal drugs, outside food or beverages, weapons of any kind, and video cameras are prohibited. Small point-and-shoot cameras for personal usage, however, are permitted.
Official Home of the Minnesota Twins
Concerts at Target Field
One of the newer stadiums amongst MLB teams, Target Field opened in 2010 as the new home of the AL Central's Minnesota Twins. When the Twins aren't in town, the venue is used as the host site for a wide variety of events, chief among them concerts.
Each summer, fans have been treated to an eclectic array of Target Field concerts, with artists like Kenny Chesney, Jason Aldean, Tim McGraw, Zac Brown Band, and Paul McCartney.
Check out the videos below showcasing the various seating views available when attending an upcoming concert at Target Field in Minneapolis.
Target Field Seating Chart
With a capacity of over 40,000 for concerts, seating at Target Field typically consists of the Field, Dugout Boxes, 100 and 300 Levels, with Club Level sections in between. If any Target Field seating is offered in the outfield, it may come with a limited or obstructed view, so just keep that in mind while shopping.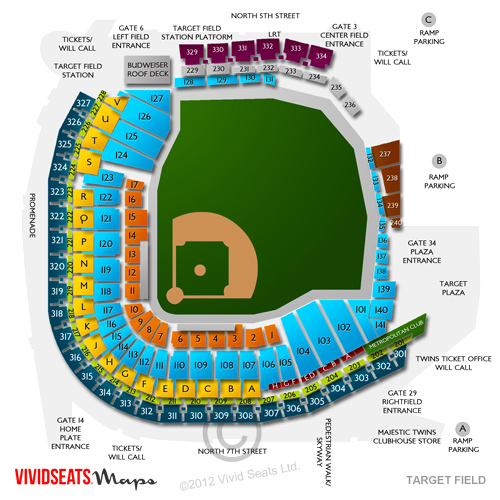 Target Field – Field Level Seating Views
While Field Level seats will cost more than a spot in the stands, it's tough to top the view you get being that close to the stage. If you're the kind of spectator that likes to be close to the action, you can't beat these seats at Target Field concerts.
Target Field – Side View of Performance Stage
If you prefer to sit close to the stage and don't care what the view looks like, seats with side views tend to run a bit cheaper than the standard Field Level. Note that depending on the stage layout, this option may not be available for every concert.
Target Field – Dugout/100 Level/Club Seating Views
These sections comprise the majority of the seating offered at Target Field concerts. For full views of the stage and accompanying set production, stick to seats centrally located near home plate.
Target Field – 300 Level Seating Views
As you can see in this video, sometimes seats in the upper level offer views you simply can't get from lower sections. Stadium concert events have a tendency to come equipped with surprises from artists – such as an unexpected fireworks show -  so if you think that may be the case with your chosen performer, opt for 300 Level seats.
Target Field – Zoomed Out View of Stadium
If you're still unsure where to sit, check out this video in which a fan does a nice job of showing off all seating levels of Target Field. It's also a recording of the same Paul McCartney opener as the Field Level video earlier, so you can see the difference in views from Field to 300 Level.