United Center Ticket Information
Step inside the largest arena in the United States by purchasing United Center tickets from Vivid Seats and enjoying all of the fantastic events that it hosts. The "Madhouse on Madison" is located in Chicago, Illinois, and holds over 23,000 fans. It's home to the Chicago Bulls and Chicago Blackhawks, while also hosting many excellent United Center concerts, sporting events, family shows, and more.  Begin by browsing the United Center schedule on this page and find the event you'd like to attend. Purchase cheap United Center tickets for various events in the arena by clicking their associated "Tickets" link. This will open our entire United Center tickets inventory for your browsing, which can be navigated to find the tickets within your budget with our price range bar. To purchase, click "Buy," and fill out the required information on the checkout page. We're just a phone call away at 1.866.848.8499, or you can reach us online via the Live Chat feature. When your purchase is confirmed, we'll prepare to ship your United Center tickets.
What To Know Before You By United Center Tickets
United Center Seating Chart Details To choose the best United Center seats for you, utilize the seating chart and seat views features. You can easily secure the United Center tickets in the specific area you want to sit in by making use of our interactive seating map. This allows you to click directly on the map, which will be different depending on the event, and see how much United Center tickets are going for and where they're available. Be cognizant of small, white notes that notify you of important information like alternative shipping methods for United Center tickets. You can also view suite and general United Center seating area details if you click the guide link on the inventory page.
United Center Rules & General Information For your safety, the United Center rules are to be enforced at all times. As a part of this, many items are prohibited, including air horns or any other artificial noise makers, video recorders, tape recorders and digital cameras with recording capabilities, fireworks, laser pens or laser products of any type, animals (excluding service animals), outside food or beverage of any kind, poles or sticks, projectiles, weapons of any kind, including guns and knives. Non-flash, still cameras and binoculars are allowed.
Official Home of the
Other Popular United Center Events
From the Blog: United Center Concerts: Seating for Chicago's Massive Music Venue
Concerts at United Center
Located on Chicago's West Side, the United Center has been the city's top destination for all kinds of live entertainment since the 1990s. Concerts have been a huge part of the arena's annual schedule for decades, drawing the world's top musicians to the "Windy City" to perform in front of area fans. Every year the United Center concert schedule is packed with music legends, like Lizzo, Iron Maiden and Shawn Mendes, and up-and-coming acts, like Dua Lipa, making this one of the most diverse venues in the city.If you're ready to see what's coming to town next, check out an updated United Center schedule of events. Otherwise, you can continue reading this post for a full guide to concert seating at this Chicago landmark, including videos taken from different seats across the arena.
United Center Concert Seating Chart
The seating setup for concerts at United Center will be slightly different than for other events at the arena. For sporting events all seats are available, while most concerts feature a stage on the far end of the floor which blocks the view of several sections in the 100-300 Levels. While these limited view sections are usually closed during concerts, floor seating is added in front of the stage. Check out the United Center seating chart below to see how seating is split between the 100, 200, and 300 Levels.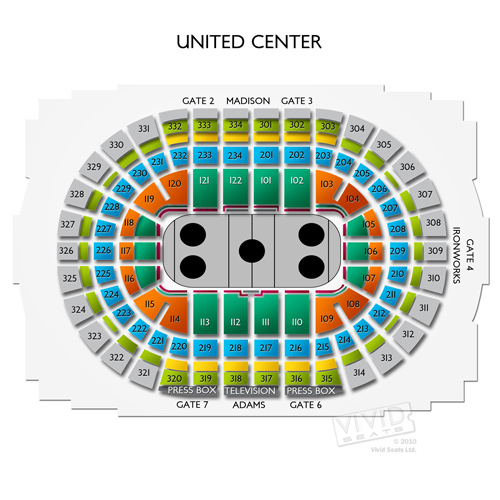 United Center Floor Level Seating Views
Typically the Floor Level is the gold standard of concert tickets at the United Center. This level will get you closest to the stage, but it's important to note that the seating layout may be either general admission (typically standing-room-only) or reserved seating. If your concert is general admission, you'll need to arrive early to get in the front row.
If you're farther back on the floor, you'll, of course, be farther from the stage. Floor seats at United Center are typically temporary folding seats, so shorter guests may have a harder time seeing if patrons in the front decide to stand.
United Center 100 Level Seating Views
The 100 Level is the first option of seating above the Floor Level, and it's also the first option of stadium-style seating. The rows of seats in the 100 Level are also tiered, so some fans prefer to sit in these seats over the temporary seats set up on the floor.
United Center 200 Level Seating Views
In the middle of the United Center is the 200 Level, which includes the venue's club seating. Sections of seating in the 200 Level are usually much smaller than those in any other level, offering a little more privacy for concertgoers.
United Center 300 Level Seating Views
Located at the top of the venue, the 300 Level will be the seating option farthest from the stage. These seats will generally be most affordable for concerts because you won't be able to get as close to the performers. Even though it may be harder to see from here, the sound is near-perfect.