T-Mobile Arena Ticket Information Opened in 2016, T-Mobile Arena (formerly Las Vegas Arena) stands as one of the most modern entertainment venues in "Sin City." From earth-shaking arena concerts from George Strait, Shawn Mendes, Post Malone, Paul McCartney, Kendrick Lamar, Carrie Underwood, Swedish House Mafia, Chris Brown, Tool, Billie Eilish, Dua Lipa and The Killers to the highly anticipated UFC 264 fight, T-Mobile Arena should be your first choice to see any kind of concert or sporting event in the city. Pick the tickets you'd like based on the T-Mobile Arena seating map and you'll be on your way to an experience you won't soon forget.
To order T-Mobile Arena tickets, you first must select the event you want to attend from the list above. Note that you can filter T-Mobile Arena events by name, type of event, or month by clicking on specific criteria under the "Filter Results" heading. Once you find your ideal event, click "Tickets." You can see all the open seats on the next page sorted from lowest to highest price. Find a listing you like, making sure to choose the appropriate quantity, and then tap "Buy." Once you log in, you'll be asked to select methods of shipping and payment. On the last page of the checkout process, you will be able to review a full summary of your order, including the total price, delivery details, and event information. Once you verify that everything is correct, check the box that you agree with our sales terms and conditions and submit the request with the "Place Order" button.
T-Mobile Arena Seating Chart Information With the capacity to seat nearly 20,000 fans, T-Mobile Arena offers plenty of seating options to suit any attendee. To choose the best T-Mobile Arena seats for you, utilize the seating chart feature. When you select a T-Mobile Arena event, you can view a custom T-Mobile Arena seating chart that shows what the venue layout will be on the day you attend. Take a look at the T-Mobile Arena seating map, choose seats on the Floor Level for an up-close view of the show, or opt for seats in the Upper Level to get a full view of the arena. If you have questions about seats at T-Mobile Arena, don't hesitate to reach us at 866.848.8499 or on Live Chat.
Official Home of the Vegas Golden Knights
From the Blog: Guide to T-Mobile Arena: Seating Chart and Events Schedule
Concerts at T-Mobile Arena
In 2016, T-Mobile Arena (formerly known as Las Vegas Arena) became the newest, most state-of-the-art live entertainment venue in "Sin City." This mammoth arena opened on April 6 with a co-headlining show from hometown heroes The Killers and longtime Vegas headliner Wayne Newton.
In its first year, T-Mobile Arena packed in plenty of prime entertainment from other veteran performers, including Guns N Roses, George Strait, Garth Brooks, Coldplay, and the Dixie Chicks. Meanwhile, sports fans got the chance to break in the arena via events like UFC 200 and the Professional Bull Riders World Finals.
T-Mobile Arena Seating Chart
Built to host huge live events, T-Mobile Arena capacity can surpass 19,000 fans. For concerts and select sporting events, you can witness all the action from T-Mobile Arena's Floor Level. Aside from select luxury suites, the remainder of seating options in the arena will include standard stadium-style seats in a lower level (Sections 1-20) and two elevated levels (Sections 101-120 and Sections 201-227).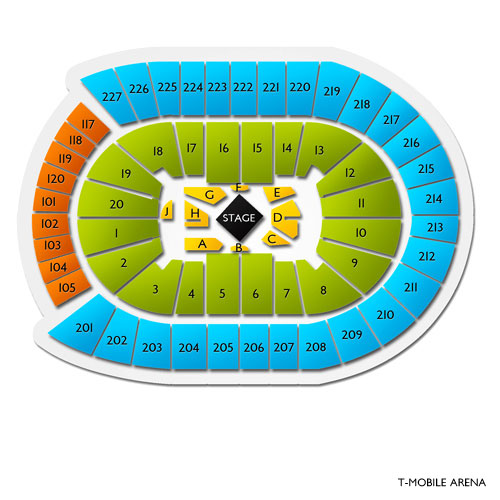 T-Mobile Arena - Floor Level Seating Views
If you like to stand at the front of the crowd, the best T-Mobile Arena seating options for you are located on the Floor Level. Depending on the event, the Floor Level may be set up as a general admission area (in other words: first-come, first-served with no physical seats), as reserved seating, or as a combination of the two. No matter what type of seating you choose, the Floor Level gives you the best chance to see your favorite performers and athletes up close.
T-Mobile Arena - Lower Level Seating Views
If you'll sacrifice a front-row view for comfort but still want to be near the action, the Lower Level of the T-Mobile Arena seating chart may be your best bet. The 20 sections of the venue's Lower Level feature tiered rows of seating that begin right in front of the arena floor. All of these sections feature physical seats, and they're ideal for shorter attendees whose view of the show might be blocked on the Floor Level.
T-Mobile Arena - Upper Level Seating Views
Last up in the T-Mobile Arena seating chart are the two upper levels of the stadium. Sections 101-120 are located along one end of the venue, while Sections 201-227 cover the rest of the arena in a horseshoe shape. Like the Lower Level, these upper levels are composed entirely of physical seating in tiered rows. These seats offer a more elevated view of the show, perfect for taking in big arena concerts or basketball games.
Prior to its opening, a first-person video tour of the arena helped give fans an idea of the layout and seating views from different points inside T-Mobile Arena.