Caesars Palace Ticket Information
Opened in March 2003 and marvelously designed with a nod to ancient Roman architecture, The Colosseum at Caesars Palace is a theatre within the Caesars Palace Las Vegas Hotel & Casino complex that was originally constructed just for Celine Dion's "A New Day…" residency. Since then, it's become one of the premier venues on the famed Las Vegas Strip, and with a seating capacity of just over 4,000, Caesars Palace events have included everything from concerts by legends like Adele, Elton John and Rod Stewart to comedy shows by Chris Rock and Kathy Griffin. Use any one of the sort filters (genre, month, time of day, event type) for extra help in navigating the schedule of upcoming performers. Claim your Caesars Palace tickets today by clicking the red button next to the listing to select seats and complete checkout. Customer service can be contacted at any point through Live Chat or by dialing 1.866.848.8499.
Caesars Palace Seating Information
From the orchestra sections near the stage, to the mezzanine sections up top, the "Home of the Greatest Entertainers in the World" has many options, and our Caesars Palace seating chart can help you locate your preferred seats with ease. In the event the performance you've chosen is general admission, a message indicating so will be displayed in place of a map.
Concerts at Caesars Palace
Located in the heart of Las Vegas, Caesars Palace has been a hotbed of entertainment in "Sin City" since it opened the 1960s. Over the years this luxury hotel has been home to the residencies of numerous famed stars, including contemporary singers like Adele, Van Morrison, Celine Dion, Elton John, Rod Stewart, Mariah Carey, and many more.
Today the venue continues to host hundreds of events every year, including concerts by many more A-list celebrities. View a more complete schedule of upcoming Caesars Palace events to see what's coming to the hotel in the next few months.
If you already know which event you want to see live and just need help picking out your seats, continue reading our seating guide to get a first-person look inside this acclaimed entertainment site.
Caesars Palace Seating Chart
Seats on the Caesars Palace seating chart are available in three levels: the Orchestra, 1st Mezzanine, and 2nd Mezzanine. The Orchestra holds five sections on the main floor of the theater, while both of the Mezzanine Levels contain seven sections each in an elevated balcony area.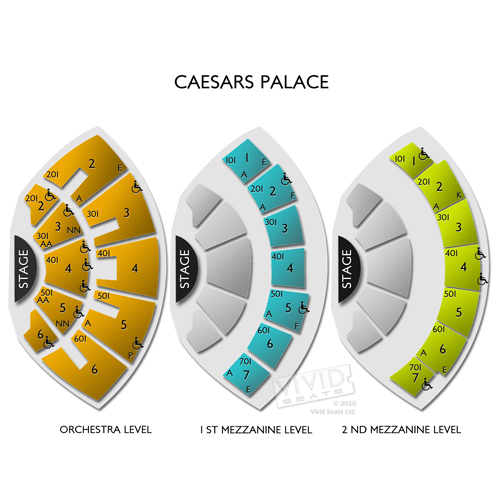 Caesars Palace Orchestra Seating Views
From the Orchestra of the Caesars Palace seating chart, fans can be right in front of their favorite performers. Seats in the front few rows of this section offer once-in-a-lifetime opportunities to get as close as possible to the act you're going to see.
Even farther back in the Orchestra section, fans still get a decent view of the artists' performances. Watch the video below to see what a concert looks like from rear central seats in this level.
Caesars Palace 1st Mezzanine Seating Views
The middle section on the Caesars Palace seating chart is the 1st Mezzanine. This first level of elevated seating has the fewest rows of any level in the venue, and so it's easier to get a good view of the stage with fewer people sitting in front of you.
Caesars Palace 2nd Mezzanine Seating Views
If you want to catch an aerial view of what's happening on stage, you should look at options in the 2nd Mezzanine. This area of the Caesars Palace seating chart offers the highest vantage point to take in concerts and other events on stage.