Ryman Auditorium has long stood as one of Nashville's most important live music venues. From its 19th-century roots as the Union Gospel Tabernacle to its three-decade stint as host of the Grand Ole Opry, the popular concert hall has enjoyed more than a century in the spotlight as a center for live music.
Today, Ryman Auditorium is the site of countless concerts from bands of every genre that roll through Nashville on tour. Check out the Ryman schedule for an up-to-date list of the venue's upcoming concerts, or keep reading this post for a guide to the Ryman Auditorium seating chart.
Ryman Auditorium Seating Chart
As you can see on the Ryman Auditorium seating chart below, this Nashville music hot spot features two main levels. Facing the stage are the main floor and an elevated balcony level. Each of these two levels holds eight sections of seating for reserved concerts. Note that the floor may be made into a general admission area for certain performances.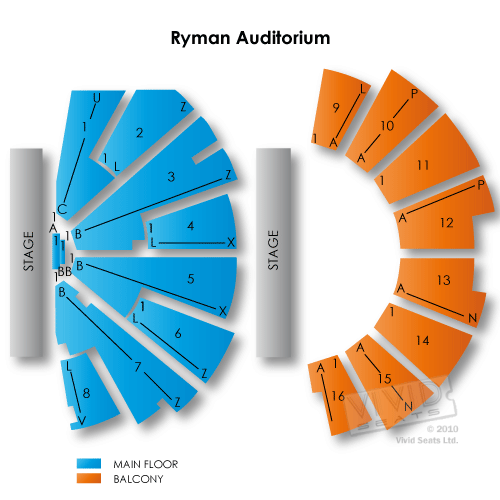 Ryman Auditorium Main Floor Views
The area directly in front of the stage on the Ryman Auditorium seating chart is the Main Floor. This area can be general admission for some concerts, meaning fans who arrive earlier will be able to choose the spots closest to the stage. Reserved seating may also be available on this lower level for certain Ryman concerts.
Ryman Auditorium Balcony Level Views
The Balcony Level is the second and final seating option on the Ryman Auditorium seating chart. The options in this elevated level give an aerial view of the performance, which some fans may prefer for its more complete view of the stage.
Ryman Auditorium Seating Views
If you need help deciding which option on the Ryman Auditorium seating chart is best for you, watch the video below. It compiles many different fan videos of the same performance into one seamless song so you can get a real feel for how one performance is experienced across the venue.