American Airlines Center Ticket Information You can purchase American Airlines Center tickets from Vivid Seats and be proud that you're about to enjoy yourself in this state-of-the-art, award-winning arena. Home of the NBA's Dallas Mavericks and the NHL's Dallas Stars, AAC is located in Victory Park, Dallas, Texas, and hosts many great events, including concerts, family events, and more. You can get cheap American Airlines Center tickets for the event of your choice with ease, just click "Tickets," and you can view our entire selection. Then use our seating quantity filter and the price range bar narrow down your options to only the tickets that fall within your chosen price range. When you're ready, click "Buy," long in, and enter the required billing and shipping information. For any concerns or questions, chat with us online using the Live Char feature, or call us at 1.866.848.8499. Once the purchase is finalized, we'll prepare your American Airlines Center tickets for a prompt delivery.
American Airlines Center Seating Information To find American Airlines Center tickets, be sure to use our interactive American Airlines Center seating chart. With this unique tool, you can click on the seats in the venue you're interested in and it will show you the current pricing and availability. There are small icons and white notes next to ticket prices which give information like alternative shipping methods, and for more precise information on suites and general seating areas, just click the link near the city and venue name.
American Airlines Center Rules & General Information The American Airlines Center rules are a vital factor in the safety of all attendees, so it is vital that you are aware of them. There are many items not allowed inside American Airlines Center events including alcoholic beverages, illegal drugs, outside food and drinks,  video recorders, audio recorders and fireworks. It;s also requested that you refrain from bringing things like laser pointers, backpacks, coolers, weapons of any type, and large bags of any kind. Cameras with lenses that are 4 or more inches in length are not allowed except for Dallas Stars games. Non-flash, still cameras and binoculars are allowed.
Official Home of the
Other Popular American Airlines Center Events
Concerts at American Airlines Center - TX - TX
Dallas' American Airlines Center - TX opened in 2001, and the spacious arena has been the site of countless live entertainment shows in Texas in the decades since the venue first opened its doors. Known for hosting large-scale events throughout the year, the American Airlines Arena is a regular destination for the world's top concert tours from icons like Madonna, Metallica, AC/DC, Tyler, the Creator, Shawn Mendes, Kendrick Lamar and more.
For help deciding which seats you should choose when you next see a concert at American Airlines Center - TX, read our full guide to the arena's seating chart below. 
American Airlines Center - TX Concert Seating
There is seating available throughout every level of the American Airlines Center - TX seating chart when concerts come to town. This includes options on the arena floor, as well as in the Lower, Middle, and Upper Levels. You can see all the different divisions of arena seating in the image below.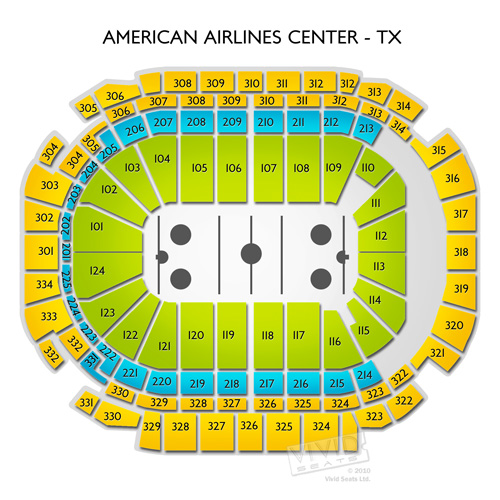 American Airlines Center - TX Floor Level Seating Views
The lowest level where fans can sit for arena concerts at American Airline Center is the floor. This area is generally set up with the main stage at one end and rows of seats or a general admission area facing that stage. Some artists may have different stage configurations or seating preferences that will affect which seating options are available on the floor, but generally the floor is the closest you can get to performers.
American Airlines Center - TX Lower Level Seating Views
Just one step above the floor, the Lower Level marks the first area where fans can sit in permanent stadium-style seating. Some fans prefer to sit in the Lower Level over the floor, since you can generally see over the fans who are located on the Floor Level.
American Airlines Center - TX Middle Level Seating Views
The Middle Level is one of the smallest levels in the arena, since its sections don't fully wrap around the floor. The sections within the Middle Level are also generally smaller than those in other levels, making seats in this area feel a little more exclusive than those in other sections. Even in the video below, taken from the 200 Level behind the stage, you can see how close these seats feel to the performance.
American Airlines Center - TX Upper Level Seating Views
Last up in the arena is the Upper Level, which stands above the Middle Level. The seats in this section will be farthest from the floor, and therefore, these options are usually the most affordable. That being said, fans generally enjoy the sound from this level even when they can't see the performers up close.