Red Rocks Amphitheatre Ticket Information
When you buy Red Rocks Amphitheatre tickets, you get to sit inside the naturally formed and acoustically perfect amphitheatre on planet Earth. Curbed by a pair of three hundred-foot sandstone monoliths resting 6,450 feet above sea level, this one-of-a-kind, open-air amphitheatre is a geological phenomenon that hosts 9,450 fans who are in for a phenomenal show. Red Rocks Amphitheatre tickets can be yours cheaply, and all you need to do is decide on the event you want to experience and click the "Tickets" link adjacent to the date it's happening on. Then, use our convenient filters to find the perfect tickets. Make sure to reach out to us if you ever have any questions. We're always available to chat with our Live Chat feature and by phone at 1.866.848.8499. To purchase, click the "Buy" link next to the tickets you want and log into Vivid Seats. Then, fill in your shipping and billing information to finalize the transaction, and once it's complete, your Red Rocks Amphitheatre tickets will be sent.
Red Rocks Amphitheatre Seating Information
To choose the best Red Rocks Amphitheatre seats for you, utilize the seating chart below. White notes and small icons next to certain Red Rocks Amphitheatre tickets are a signal that there is additional information for you to view; often times this signals alternative shipping options. Our interactive Red Rocks Amphitheatre seating chart is a unique feature, in that it lets you find out prices and availability on specific areas of the venue by clicking directly on the location. Take note that the chart often changes based on the event you're looking at.
Popular Red Rocks Amphitheatre Events
From the Blog: Red Rocks Concerts: The Ultimate Seating Guide for Colorado's Favorite Music Venue
Concerts at Red Rocks Amphitheatre
Located in Morrison, Colo., just west of Denver, Red Rocks Amphitheatre has stood for more than a century as one of the most impressive concert venues the world over. The stage at this outdoor venue is nestled between a series of rock formations that creates perfect acoustics for a one-of-a-kind live music experience that's not to be missed. Over the years, everyone from The Beatles to Brandi Carlile to Bassnectar has played here under the Colorado stars. Today, artists from every genre continue to make Red Rocks a leading destination for live music.
Red Rocks Seating Chart
In the sample Red Rocks seating chart below, you can see the basic layout of the amphitheater. There are 70 rows of wooden bench seating in the venue, including one row at the front and one in the rear with accessible seating options. According to the performer's preference, these rows can be set up in any combination of general admission and reserved seating. Overall, Red Rocks Amphitheatre can fit about 9,450 fans per concert.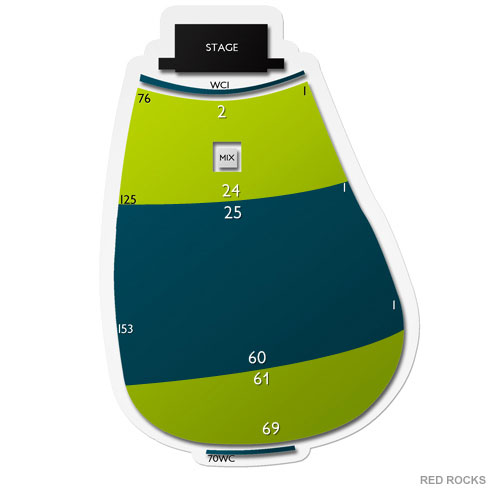 Red Rocks Concert Seating Views
With steeply tiered rows of seats, Red Rocks Amphitheatre provides excellent, unobscured views at every level of the venue. Get an idea of the different vantage points from rows around the amphitheater through the collection of videos and photos below.
Red Rocks - First Row View
Of course, if you want to get as close as possible to the show, you'll want to look for options in Row 1. Fans never regret taking in Red Rocks concerts from the front row, where they can get up close and personal with their favorite musicians.
Red Rocks - Row 18 View
Row 18 is about a quarter of the way up the Red Rocks seating chart. From this level, fans are close enough to have an intimate view of the band, while also being far enough away to take in a full view of the stage.
Red Rocks - Row 40 View
A little more than halfway up Red Rocks Amphitheatre, the view of the stage is still full and clear. The acoustics of the natural amphitheater make the concert sound impeccable no matter where you sit.
Red Rocks - Last Row View
While Row 70 is farthest from the stage, rear seats for Red Rocks concerts give fans a chance to take in the full spectacle of the show, including the intricate concert lighting that plays along the signature surrounding red rocks. Plus, the views of the surrounding scenery really make any upper-level seats worth it.