TD Garden Ticket Information
When you purchase TD Garden tickets from Vivid Seats, you can look forward to stepping foot inside a state-of-the-art facility that's commonly recognized as one of the best in the country. In addition to having housed some of the country's top events, including Wrestlemania, the NCAA Division I Men's Basketball tournament, and the NHL All-Star Game, the Garden is home to the NBA's Boston Celtics and the NHL's Boston Bruins. There are also plenty of TD Garden concerts every year - with acts like Lil Durk, Post Malone, Kid Cudi, Bad Bunny, Ozuna, Shawn Mendes, Kendrick Lamar, Smashing Pumpkins, Florence and the Machine, Tame Impala, Genesis, Justin Bieber, Tool, Joe Rogan, John Mayer, The Killers, Swedish House Mafia, Billie Eilish and Lizzo appearing in 2022.
Purchase cheap TD Garden tickets by clicking "Tickets" on the event you're interested in seeing live. Use the TD Garden schedule on this page to browse upcoming concerts, sports games and family entertainment events. Be aware that convenient tools like the price range bar let you find tickets quick, as it limits your search results to the tickets within your chosen budget. After you click "Buy" to purchase, you'll need to log in and enter your billing and shipping details. We're ready to help you if you ever need us, whether it's by phone at 1.866.848.8499 or via our Live Chat. When the purchase is complete, we'll make sure your TD Garden tickets are send promptly.
TD Garden Seating Chart Details
To choose the best TD Garden seats for you, utilize the seating chart and seat views features. We've also got the details you seek when it comes to suites, club seats, and general seats. All you have to do is click on the guide link that's adjacent in the inventory page. There are small icons or white notes located near ticket prices that offer extra information, such as alternative shipping methods on your TD Garden tickets. Also, to find your ideal tickets fast, use our interactive TD Garden seatmap, which lets you click directly on the area you're interested in and see the pricing and current availability. Keep in mind that the seating chart will change depending on type of event.
How Many Seats in TD Garden?
With its 19,000-plus capacity, TD Garden is a great spot to catch excellent concerts and family events. 
Official Home of the Boston Celtics | Boston Bruins
From the Blog: TD Garden Concerts: Seating Information for Boston Arena Concerts
Concerts at Ford Amphitheater at Coney Island Boardwalk
Since summer 2016, New Yorkers and visiting spectators have had a premier venue in which to see their favorite performers at Coney Island live.
For its inaugural year, the state-of-the-art outdoor Ford Amphitheater at Coney Island Boardwalk put on concerts from greats like Sting and Peter Gabriel, Maxwell, Erykah Badu, Don Henley, and many more.
Keep reading this post for a full guide to seating at this venue, or jump to the bottom for the latest Ford Amphitheater at Coney Island Boardwalk concerts schedule.
Coney Island Amphitheater Seating Chart
The Coney Island Amphitheater seating chart has a maximum of four levels available to fans. The availability of each level will depend on the event you're going to see. Occasionally, as in the photo below, a general admission Pit may be open for certain concerts. If available, the Pit won't offer physical seats. Behind that is the 100 Level, followed by the 200 and, finally, the 300 Levels. The 100-300 Levels are usually laid out with reserved seating, but some events may be general admission even in these seated sections.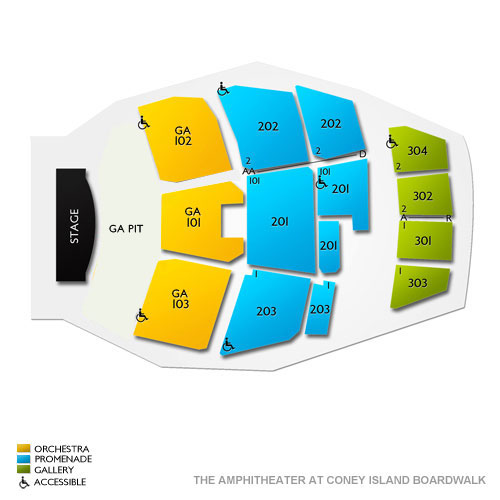 Guide to Coney Island Amphitheater Seating Views
If you're planning to attend any Coney Island concerts, you'll want to make sure you have the right seats for the best experience. All of the 5,000 seats at this Coney Island live venue are covered under a roof, so rainy days shouldn't pose a problem no matter where you're seated.
Coney Island Amphitheater Pit and 100 Level Seating Views
When a Pit is available, the general admission section will be the closest you can get to the stage. If no Pit is open, the 100 Level seats are the best bet for fans who like to be in front of all the action. Note that if you're in the general admission Pit, you'll be admitted on a first-come, first-served basis, and you will likely need to stand for the whole concert.
If you want the option to sit but still want to be close to the front, you should go with passes in the 100 Level. This section also holds the majority of seats in the amphitheater, making it easier for fans to get close to their favorite artists.
Coney Island Amphitheater 200 Level Seating Views
The central 200 Level is the middle ground of The Amphitheater at Coney Island Boardwalk seating. If you like to be close to the action but want to sit a reasonable distance from the stage, you'll love seats in this area of the amphitheater.
You should consider seats in the double-letter rows of Section 201 to be prime for the 200 Level. These are the first rows in the section and will be centered in relation to the stage.
Coney Island Amphitheater 300 Level Seating Views
The last Coney Island Boardwalk seating option is the 300 Level. Typically the best for fans on a budget, the 300 Level is farthest from the stage. You may not be able to see everything happening during the show, but most Coney Island Boardwalk concerts will be broadcast on large LED screens. This way, fans sitting in the 300 Level won't miss out on any part of the show.